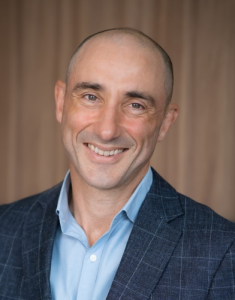 Areas of Expertise
Paediatric Neurosurgery
Hydrocephalus
Endoscopic Neurosurgery
Foetal Neurosurgery for Spina Bifida
Minimally Invasive Spinal Surgery
Epilepsy Surgery
Tumours – of the brain, spine, spinal cord, and peripheral nerves
Spinal Injuries – ruptured discs, sciatica, stenosis, trauma, low back pain, radiculopathy, and spinal cord and nerve root compression
Musculoligamentous Spine Injuries
Head, Brain, and Skull Trauma
Haemorrhagic Stroke
Skull Base Neurosurgery
Summary
Dr Martin Wood completed his undergraduate training at Aberdeen University in Scotland.  He undertook advanced training in Neurosurgery at The Royal Children's Hospital and St Vincent's Hospital in Melbourne, and The Princess Alexandra Hospital and The Mater Children's Hospital in Brisbane followed by post fellowship training in skull base surgery and hydrocephalus at the Cambridge University Academic Neurosurgery Unit and in paediatric neurosurgery at Hôpital Necker Enfants-Malades in Paris.
Dr Wood is actively involved in medical research and has presented nationally and internationally at scientific meetings and is an author and coauthor of many medical research papers.
Outside of medicine, Dr Wood holds a Commercial Pilot's Licence and flies his own plane regularly for business and pleasure.  When his feet are on the ground, Dr Wood enjoys cycling and running and has completed marathons in London, Paris, Gold Coast, Sydney, and New York.  He is also Co-Owner and Distiller at Kitty Hawk Distillery in Brisbane.
Current and Previous Positions
Consultant Neurosurgeon at Queensland Children's Hospital, Brisbane
Consultant Neurosurgeon at The Mater Private Hospital, Brisbane
Director of Brisbane Clinical Neuroscience Centre
Senior Lecturer at University of Queensland
Member of the Neurosurgical Society of Australasia
Member of the Society for Minimally Invasive Spinal Surgery (SMISS)
President and Co-Founder of Brainchild Foundation Ltd, a charitable organisation which aims to improve the care and support provided to children with brain and spinal cord tumours
Qualifications
Bachelor of Medicine and Bachelor of Surgery
Bachelor of Medical Science
Fellow of the Royal Australasian College of Surgeons – Neurosurgery
American Board of Independent Medical Examiners (A.B.I.M.E.), AMA5